Miyuki Colorpack - 15 colors Tila's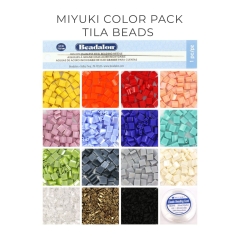 Productnumber

: PA-CO-kittila

Color

: mix
This beautiful package contains 15 colors of Tila's.


Together with this package, the customer will receive a unique link to an extensive E-book online. Here they will find detailed instructions and explanations of bracelets, earrings and pendants all made with these Tila beads!

Everything is packed in a neutral, transparent box, ideal for presenting in a store. If you want to hang it on the wall in your shop please let us know, we can attach euro lock hangers to the box. If you sell online or want to share it on social media, we are happy to share our photos with you. Also an advantage is that it fits in the mailbox.
This kit contains: (adjusted to required quantity so may differ from the quantities below)
Products from same serie ( 1 )