miyuki half tila 5x2.3 mm - opaque turquoise green 412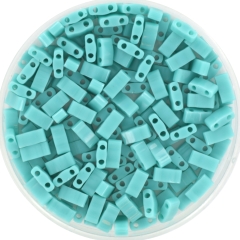 Productnumber

: KR-MITL2-412

Colortype

: opaque

Color

: turquoise

Shape

: flat

Size range

: 5 mm

Inside hole

: 0.8 mm

Length

: 5 mm

Width

: 2.4 mm

Thickness

: 2 mm
Half tila beads are rectangular beads with 2 holes parallel holes. The size is 2,5 x 5 mm, which is exactly half of the size of a square tila beads. With only 2 mm thickness, they are very flat.

By combining different colors you can make any style possible. For example light and fresh colors are perfect for spring and summer or use darker colors for colder days. But every day it is of course possible to match them with your look that day. They are easy to make with elastic cord or steel wire.

The half tilas are easy to alternate with the whole and quarter tila beads, which are exactly the same width, but are double or half the length.


Colortype Opaque
Opaque colors are the basic colors of Miyuki, such as black, white, red, green, purple, etc. This is the most reliable color type, as the color of this type is through and through.


Extra pictures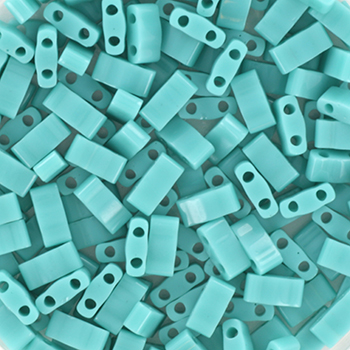 Same color but other shapes
Alternatieve kralen in kleurtype opaque (4)
Products from same serie ( 11 )