miyuki cut delica's 11/0 - 24kt gold plated 31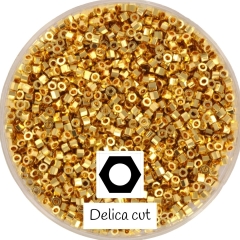 Productnumber

: KR-MIDEC11-31

Colortype

: plated

Color

: gold

Shape

: cillinder

Inside hole

: 0.8 mm

Length

: 1.6 mm

Width

: 1.3 mm

Thickness

: 1.3 mm
Miyuki is the name of the best brand of seed beads worldwide and they are made in Japan. There are many shapes available, incuding this hex cut delica beads. Hex cut beads are hexagonal cut, which means they are six-sided. The angled edges capture and reflect light better then round shapes. This shape also gives larger holes, which gives more space for needle and thread to pass.

Hex cut seed beads can be used in many bead weaving projects, stringing projects and loom designs. Use them by themselves to get a lot of sparkle or add them in specific places to create highlights.


Colortype Plated
Plated is a color type where precious metals are used to create the color. They come in the colors gold, silver, copper and bronze and are very popular, as they have a deeper gloss than other color types.

Be aware that the color type Plated can change due to friction or skin contact. We recommend that you handle this with care. This problem is less likely to occur with projects such as bead embroidery or earrings where there is no friction.


Extra pictures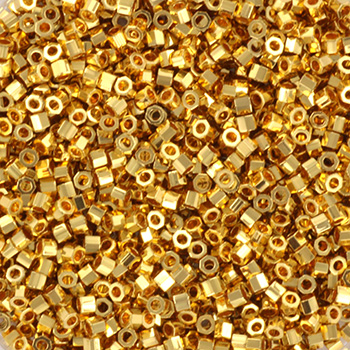 Same color but other shapes
Products from same serie ( 1 )